Strengthening our Foundations – Andy Hare
22 September, 2019 @ 10:30 am

-

12:00 pm

BST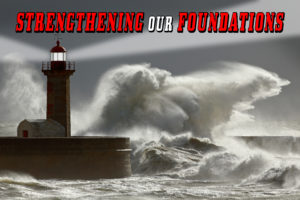 For Jesus' church to be effective in the midst of a world in which so much seems unstable and uncertain it is vital that we have built our life on the firm foundation of Jesus Christ and on his word.
To that end, this autumn we will be running a teaching series aimed at strengthening our foundations and will be looking at six biblical doctrines which will help us in this. They are to be found in Hebrews 6:1-2:
'Therefore let us leave the elementary doctrine of Christ and go on to maturity, not laying
again a foundation of repentance from dead works and of faith toward God, and of
instruction about baptisms, the laying on of hands, the resurrection of the dead, and
eternal judgment.'
Today, Andy Hare – who is presently studying for an MA in Kingdom Theology at Westminster Theological Centre – will be giving us some theological tools and practical helps to better navigate and understand the Bible by way of preparation.